While everyone else is out buying $99 TVs that they don't need, why not pick up that Gravity Forms license you've had your eye on for 50% off?
You might be thinking "Wow. I can't remember the last time I saw a sale for Gravity Forms". That's probably because in the 8 years that Gravity Forms has been revolutionizing the way you create forms on your WordPress site, even we can't remember the last time we offered a sale like this.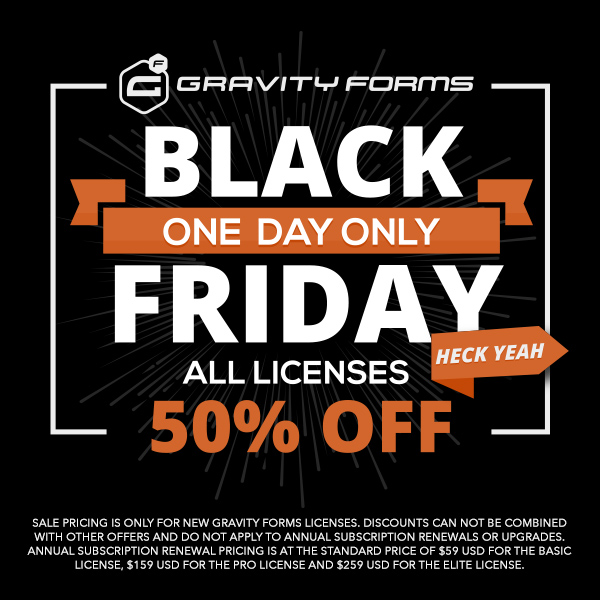 Starting Friday, we're offering 50% off all licenses. Yeah, that's right; Basic Licenses are $29.50, Pro Licenses are $79.50, and Elite Licenses are $129.50. Same great product, same great support, insane deals.
What's The Catch?
We're not a fan of the sneaky stuff, so we won't make you squint at the fine print.
This deal is only available to new customers. If you have an existing license, you won't be able to take advantage of this deal (but we still love you, if that's any consolation).
All renewals will occur at regular price. Don't worry, if you want to cancel after the promotional period, you can do so directly from within your account at any time. Like I said, we hate the sneaky stuff.
Want To Try It First?
So you bought the cheap $99 TV last Black Friday and really wish you would have been able to see the picture quality first? We've all been there. Give take Gravity Forms for a spin on your own personal demo first. After you fall in love (and we know you will), come back here to pick up the deal. Yes, we're that confident.