Community -
Advanced Phone Field
Level up your Phone fields with automatic country code selection, real number validation, and stylish visuals.
Certified Add-On
Automatic phone number validation & country code 🇺🇸 detection for a modern Phone Field experience.
What does Gravity Forms Advanced Phone Field do?
Advanced Phone Field validates phone numbers in real time and adds interactive country code drop downs that detect countries automatically, animated flags included. 🇺🇸 It also parses a variety of meta data about the phone number which can be used in conditional logic or to filter entries.
Ensure phone numbers on your forms are real via live validation.
Create a sleek user experience via country code drop downs that match a user's location automatically.
Capture and reuse phone meta, including phone type, location, carrier, and more.
Filter area codes that appear by default.
Features
Phone number validation.
Ensure submitted phone numbers are real numbers. No more throwaway numbers. Less typos.
Selectable country codes with flags.
Customers can easily select their country code and will appreciate country flags as a visual aid.
Auto-detect default country.
Automatically detect the country code by visitor location or set a default country.
Filtered and preferred countries.
Filter which countries are available for selection and place preferred countries at top of selectable list.
Capture phone meta.
Capture phone type, location, carrier, and more.
Use Phone meta in conditional logic.
Trigger conditional logic based on captured metadata.
Automatic updates.
Get updates and the latest features right in your dashboard.
Legendary support.
We're known for our response times, and going above and beyond.
Take it for a test drive.
Check out our documentation page for an interactive demo.
Here's an example of phone meta from our interactive demo.
We're here to help.
"We've used Perks for a month and, already, we can't imagine life without Gravity Perks. You guys are great and your product is indispensable."
– Kylie Spizale, Family Missions Company
Made by Gravity Forms Developers.
Legit Gravity Forms wizards.
We used to work at Gravity Forms, and we're certified developers.
Over 15,000 customers.
Join a community of Gravity Forms users, web developers and agencies.
Save thousands of dollars in development fees.
Create custom, no-code solutions for your business from a growing list of 45+ plugins.
Access to hundreds of free snippets.
Easily customize Gravity Forms to your exact needs.
Support you can count on.
Our Pro plan averages a one hour response time and can help with minor customizations.
Zero risk to use.
A 30 day money-back guarantee.
Questions? Reach out to us.
Looking for functionality beyond Gravity Forms out-of-the-box?
We have a plugin for nearly every scenario – including Limit Submissions, Populate Anything, Inventory, Nested Forms, File Upload Pro, and Address Autocomplete.
Blog -
Check out the latest articles about Gravity Wiz
See More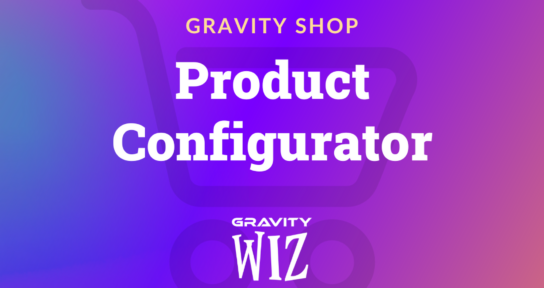 Featured Add-Ons
Gravity Shop Product Configurator creates a native integration between two giants – Gravity Forms and WooCommerce. Transform how you do eCommerce!