Gravity Forms comes styled to work out of the box with just about any theme. If the defaults aren't your cup of tea, we've also made it really easy to customize the look and feel of your form.
Easy to Customize
Every element in a Gravity Form can be targeted either directly by a class name, unique ID or by using CSS inheritance so you can completely change the look & feel of your form.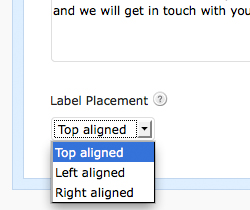 Configurable Layouts
There are 3 built-in label placement options as well as options for basic field sizes. For most of the fields, the user can define additional class names in order to apply additional custom styles or to target elements for other types of manipulation.
---